When we decided to personalize the interior style of Dove Way, we decided we wanted to use reclaimed wood for a metro-meets-Maine feel. We wanted our custom reclaimed wood projects to carry throughout the house.
We wanted reclaimed wood accents throughout the house with blondes and grays to offer a lakehouse feel without distracting guests from the stunning panoramic views of the property. After looking at a number of vendors, we finally found the perfect one. We're very excited to announce that Dove Way has partnered with Maine Heritage Timber as the main supplier for all of Dove Way's reclaimed wood accents.
Maine Heritage Timber works with 100% river-reclaimed logs. Products from Maine Heritage Timber do NOT repurpose old wood that's already been used in buildings. It's an important distinction, because it means that our reclaimed wood and is fully intact and unexposed to any harsh chemicals. Wood recycled from old homes or industrial facilities is wood with decades of exposure to potentially harmful substances like asbestos or lead paint. The reclaimed wood from Maine Heritage Timber comes from the depths of the Penobscot River, and is as fresh and full of potential as it was the day it was cut so many decades ago.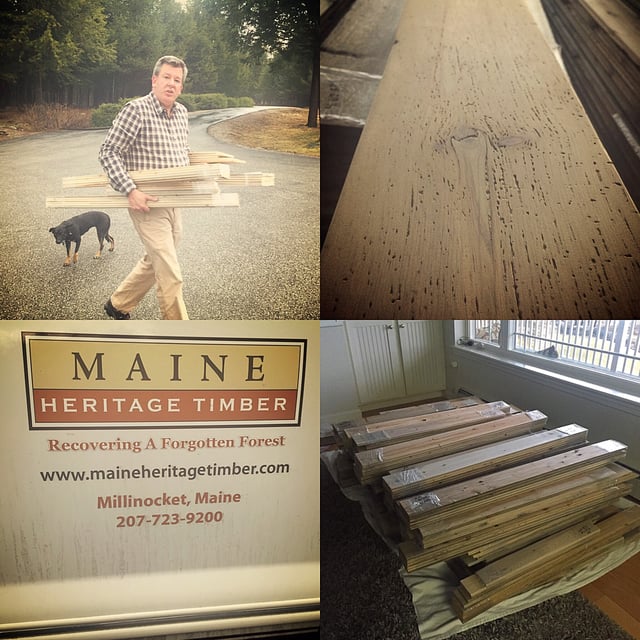 This past week, we had the pleasure of meeting cofounder Tom Shafer when he delivered our pallets of reclaimed wood to Dove Way. Tom was fantastic and spent some time telling us about the history of the Maine Heritage Timber. He educated us on the manufacturing processes and how the wood for Dove Way came to be. He also shared samples of their other amazing product timberchic, which is peel and stick REAL reclaimed wood product. Yes, it's a DIY reclaimed wood product made from real wood from a Northern Maine river, and it's so easy to use you can do it yourself. It's just amazing, and we can't wait to try to work with it ourselves.
We couldn't think of a better partner to work with to bring all-natural materials from the rivers of Maine to the interior of our lake home. We'll keep you posted on how the work goes and we will be adding photos & videos of the progress on our Property Page & YouTube Channel.
For more information on Maine Heritage Timber, visit their website.
For samples of the DIY Reclaimed Wood from Timberchic mention Dove Way when ordering.