Dove Way recently partnered with That's Sew Fetch Q and C for a custom American Flag Rag Quilt. The stunning 8'x6' quilt will be a featured accent for the lake house.
Dove Way partnered with Sierra because of her ability to deliver exactly the piece we envisioned for our home. We had a large open wall above the living room and knew we wanted to fill the space with something special.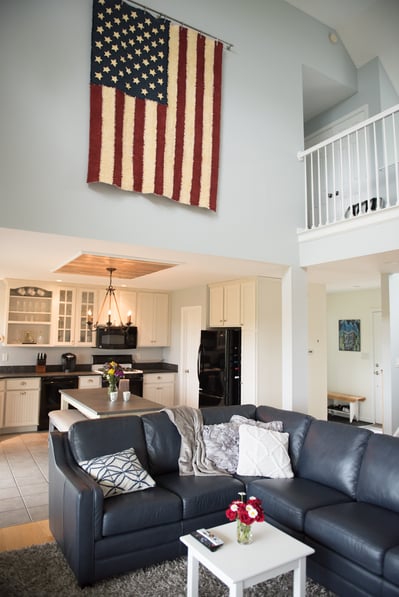 We sent Sierra samples of the leather from our custom navy sofa to pair with our cranberry fabric. She then took those samples and color matched the fabric for the quilt. What makes this quilt so special to us, is that she stitched into the stripes personalized phrases and quotes. "I like to really go over the top for my customers and offer the ability to add personalized quotes within the fabric. It really customizes a quilt to the individual, and it's what sets my quilts apart." We could not be happier with the end result. A one-of-a-kind statement piece.
Sierra's love for sewing dates back to elementary school, when she spent hours watching her Grandmother sew. Sierra was first introduced to quilting while combing through one of her Grandmother's quilting magazines, " I found the most beautiful rustic quilt and I thought, hey, I think I'd really like to try this.My Grandma taught me the ropes, and together we worked on my first quilt. From there, it's just felt like quilting was natural fit for me."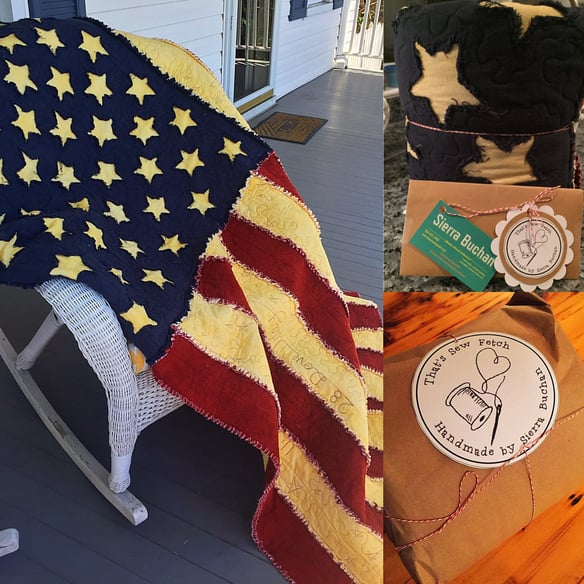 About The Custom American Flag Quilt:
Sierra only uses quality materials for her quilts. For her American Flag Rag quilts she uses a high quality fabric from the Shadow Play Collection from Maywood, with Warm and Natural brand batting, "It has definitely been my favorite to work with. It's fairly thin which is great for quilts, but really dense, and quilts beautifully. I piece my quilts with Gütermann thread, and quilt with Omni or Aurifil brand thread. It really makes a difference to spend the extra cash for a quality quilt."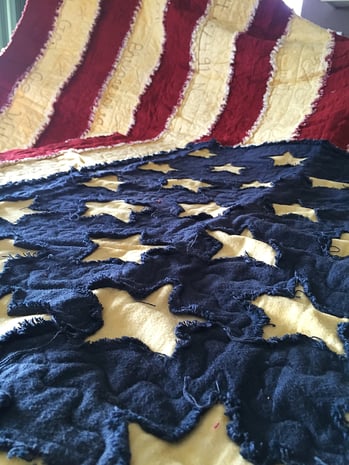 Sierra prides herself on being able to add value to her product by enhancing her quilts with custom quilting and original ideas. "I'm not afraid to step outside of the box and try something new. For example, instead of adding 50 white stars to my blue fabric, I cut out 50 stars from 1 piece of fabric- and lay it on another piece of white fabric. This is very risky because if you cut one wrong the whole piece is ruined. This allows me to continue the frayed look into the blue section, which some are afraid to do."
With so many products to choose from on on Etsy, Sierra's combination of high quality product, unique personalization, and excellent customer service is really what sets her apart.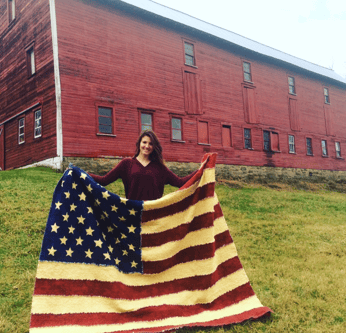 About the Artist:
Sierra Buchan is a 21 year old nursing student from Western Pennsylvania. While recognized as a quilter, she is also enjoys oil painting, chalk art, recycled antiques, and cookie decorating. Sierra also enjoys spending time outdoors on Indian Lake, paddle boarding, and other outdoor adventures.
Want to see our flag in person, come stay with us at Dove Way?