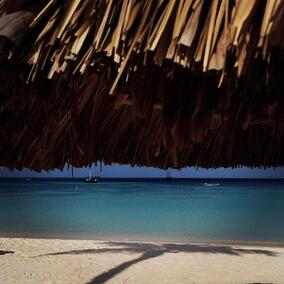 Beach @arubamarriott
For years I believed it was impossible to pack for a trip in a carry on. My desire to have a fashionable and versatile wardrobe often ended up with me over packing. I was well aware of the benefits of traveling carry on only. I would be more agile through the airports, no waiting to check bags, I could simply get off my flight and go. My need for "enough" options to choose from made it impossible to get everything in one bag. Until...
April 2014, I embarked upon a 10 night 11 day trip to Italy. My husband and I were scheduled to visit Florence, Rome, Tuscany, and Sorrento. It soon became clear to me that if I wanted to be an agile traveler, I needed to be smarter and more strategic in my packing. I needed to figure out how to get 10 nights in one carry on without compromising my versatile wardrobe.
Below are fashionable solutions for packing a carry on:
1) Clothing and activity alignment is key to packing smarter: How many countless items do you bring on vacation and never wear? They best way to avoid over packing is to align your clothing with the activities you have planned each day. Visualizing what you will wear each day allows you to hone in and plan outfits accordingly. You will find, you pack less when you have a plan.

2) Purchase travel products to optimize space in your carry on: There are a few secret weapons I use for smarter packing. My #1 must have solutions for efficient and smarter packing- The eagle creek Pack-It Specter Compression Cube Set. The large pack-it specter compression cube was able to fit my three maxi dresses, my white jeans, and my shrug. Once the pack was zipped, it was no more than 3 inches thick. My second secret weapon is the Pack-It Specter Folder. The Pack-It Specter Folder was perfect for keeping my shirts and pants wrinkle free and compact.

3) Choose a color palette for your clothing: Maximize your outfits by packing only clothes that can be worn together. Selecting a neutral color palette with a pop of color is an easy way to maximize your outfit combinations . I selected black and white as my interchangeable neutrals. I added in hot pink and navy as my pop of color.
Below are the items I packed in my carry on and still had 1/2 of my suitcase available for other items (including pajamas, underwear,bras, and shoes) because I used the eagle creek products mentioned above:
Two outermost layers: Cream colored shrug, white washed jean jacket,
Women's Momentum Triclimate Jacket by North Face (which I wore on the plane)
6 basic top layers, including silk camisoles, basic knit tops, and T-shirts, in shades of white, black, blue, and hot pink
One Pair of Denim Jeans
One Pair of White Jeans
One Pair of Yoga Pants
Two Scarves (hot pink and cream colored)
One Black Maxi dress
One Navy Maxi dress
One Multi-Colored Maxi dress
One Bathing Suit
Jean shorts
2 skinny belts
I also recommend shopping at Diane Kroel for versatile and fashionable clothing you can pack in your carry on. It's amazing how with the right products and planning what seemed impossible to pack in a carry on becomes the only way to travel.
Before going on your next trip make sure to download our Before Your Trip Best Practices. Planning is key to any sucessful vacation. Download now:
For additional Style Solutions check out my other blog posts.