Are you looking for an island inspired signature martini to serve at your BBQ this summer? If so, look no further. It's called the "SummerTini" and it comes from the Florentine Cafe in the North End, Boston. The Florentine Cafe is an adorable Italian restaurant located on the corner of Hanover Street. They serve the most unbelievable Italian dishes, and their Martini's are heavenly. I discovered The Florentine Cafe, and the "SummerTini" 5 years ago with my mother-in-law. We were shopping in the North End over Labor Day weekend and decided to stop for a drink. Ever since that day we have made the "SummerTini" a must serve drink at our summer parties.
This martini recipe only has three main ingredients and it's easy to make ahead of time.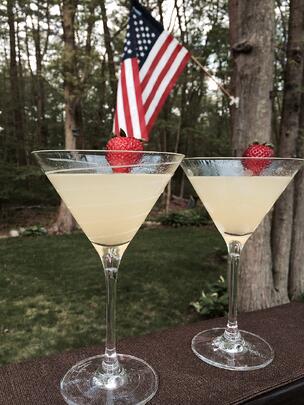 Original recipe makes 3.5 fluid ounces
Ingredients:
Smirnoff Orange

Malibu Coconut Rum

Pineapple Juice

Grenadine(optional for color)

Strawberry or Pineapple for garnish
Directions:
Measure equal parts Smirnoff Orange and Malibu into a cocktail shaker, add ice and a splash of Pineapple Juice. Secure the lid and shake until the outside of the shaker becomes frosty cold. Strain into two martini glasses (optional: add a splash of grenadine for color). Garnish each drink with strawberry or pineapple slice.
The "SummerTini" is a perfect summer drink solution to elevate your next party. Rember to drink responsibly.