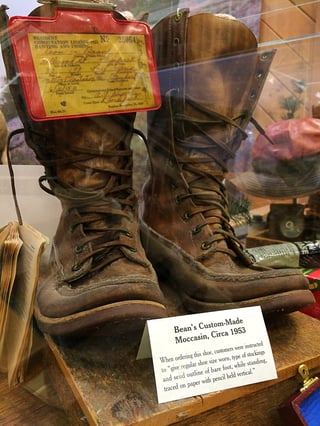 Less than an hour away from Dove Way is the town of Freeport, Maine. With just under 8,000 year round residents Freeport is the rare travel destination to retain its rustic roots while becoming one of the most popular tourist and shopping locales north of Boston. Freeport separated from North Yarmouth several years after the Revolutionary War becoming a shipbuilding hub. The town maintained its charm into the late 1800s while experiencing a manufacturing boom, mostly due to a growing garment industry. In 1912 Freeport's flagship business, L.L. Bean, opened to sell the iconic hunting boots the store is known for. 39 years later Leon Leonwood's (L.L.) business became a 24/7 operation and today there are 27 L.L. stores outside the state.
Pulling up to L.L. Bean you are greeted by a larger than life replica of the iconic rubber boot, a great place for a family photo or to plot your exploration of the sprawling L.L. Bean campus.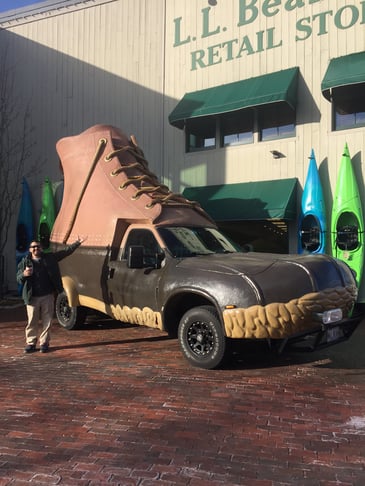 L.L. Bean attire is built to last and their 100% guarantee is renowned, as is customer satisfaction. Freeport village's main street is lined with outlets selling goods from stores you might recognize from your neighborhood mall such as Gap or Abercrombie & Fitch. But Freeport also has stores unique to the Pine Tree State such as Sea Bags. Sea Bags has locations in Portland and Freeport, repurposing sails from Portland Harbor and turning them into beautiful trend pieces. If supporting small businesses and made in America goods is important to you, you'll want to check Sea Bags out. They buy thread for their bags from the only thread manufacturer in the country and obtain rope from the only rope manufacturer in New England.
When you are ready to rest your feet and take a load off Freeport also has some amazing eats. You could head back into L.L. Bean and purchase some of Maine's best coffee from Coffee By Design. You may also want to give Frosty's Donuts a try, open since 1965 their selection is vast and their donuts are beyond delicious!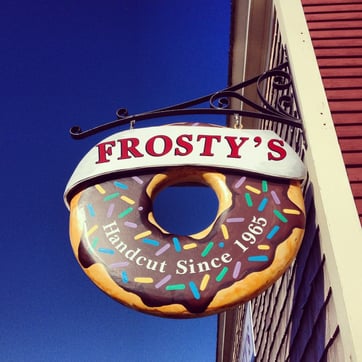 Photo Credit: Frosty's
As you finish your day in Freeport you may want to visit Yarmouth, just one town over. Here you will find a roadside attraction that far exceeds expectations. Stop inside the DeLorme map company and see Eartha, the world's largest globe, it's free!
Freeport, Maine the perfect day trip from Dove Way, ME. Be sure to add it to your list of places to see and things to do when you stay with us.