With winter approaching, it's the perfect time for outdoor and winter sports enthusiasts to visit Maine. Maine's snowy climate and Appalachian Mountains make it the ideal location to get out your winter gear and go skiing, snowboarding, and enjoy a cozy, warm night indoors after a full day of activity.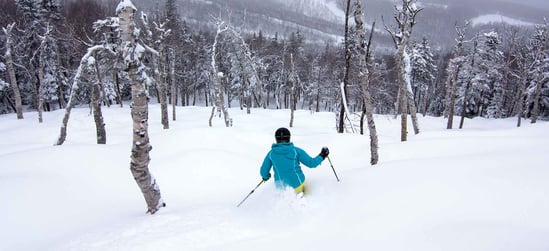 Photo Credit: Sunday River
Our vacation home in Norway, Maine is near several great ski and winter activity resorts. Here are five of our favorite ski mountains near Norway, Maine:
1. Sunday River
Enjoy the winter snow season at Sunday River in Newry, a full service ski mountain with skiing, snowboarding, equipment rental, and ski and snowboarding lessons (check out their 8 peaks). Shuttles take you between the South Ridge Lounge, Barker Lounge, and White Cap Lodge, so you can easily access the numerous ski runs, food options, and shopping. Along with skiing and snowboarding, Sunday River offers snow tubing and fireworks on select holidays. The resort is open from 9 a.m. - 4 p.m. on weekdays, and 8 a.m. - 8 p.m. on Fridays, weekends, and holidays.
Drive to Greenwood for a fun day of skiing on a 1,150 foot mountain, which offers 51 trails and five lifts for skiers of varying ability levels. Mt. Abram has lessons in skiing, telemark, and snowboarding for participants of all ages. After a fun day of activity, take the trolley to the mountain's "Westside" and enjoy food, drinks, and live music and events. Mt. Abram is open Thursday - Sunday and during school holiday weeks from 9 a.m. - 4 p.m. Be sure to check out their events calendar.
Head over to Auburn, Maine for great time outdoors! Along with skiing and snowboarding trails, Lost Valley Ski Area offers children and adult lessons in skiing and snowboarding. In addition, they offer several cross-country skiing trails. Be sure to check out their upcoming events.
Located in Bridgton, Shawnee Peak is the oldest ski resort in Maine, and has 40 trails, seven glades, and three terrain parks. Shawnee Peak opens during the daytime hours and also for special night skiing starting at 3:30 p.m. They also offer skiing and snowboarding lessons and equipment rental. After hitting the slopes, enjoy a meal at one of four on-mountain eateries. Make sure to check out their events calendar.
If you're a cross-country skier, Carter's Bethel location is very convenient. It has 55 km of cross-country ski trails, ranging from beginner to expert, and all with beautiful views. They also have cross-country ski equipment to buy or rent. Carter's is open daily from 9 a.m. - 4 p.m. Be sure to check out their events calendar.
We can't wait to hit up all these spectacular locations this winter. Question is, will you? Book a stay with us, and you too can visit all our favorite local mountains this winter.
Let us know your favorite winter spots near Norway, Maine by commenting below. We may use your idea as our next blog!