Lighthouses and lobster. If you think those are the main Maine attractions, then you may miss out on some delectably tasty craft brews. Plan a trip to Boothbay Harbor and the top activities a travel agent may advise will most likely be dolphin watching, a jaunt to Cabbage Island or visiting the Maine State Aquarium. It's a good thing you stopped by this blog to get in on a state secret: Boothbay Craft Brewery.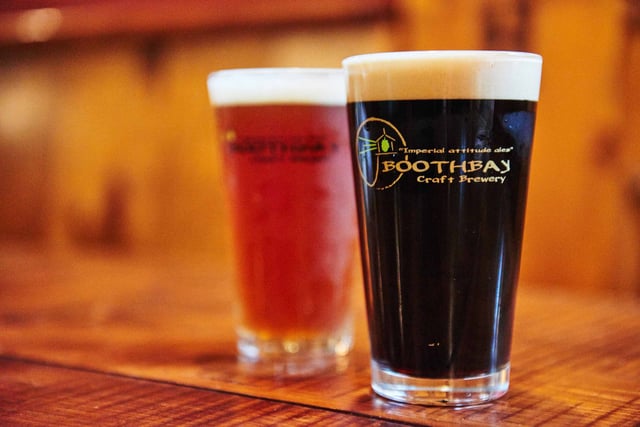 Photo Credit: Cody Mitchell via VisitMaine
A tour of the brewhouse introduces visitors to the steam-heated process used to create the signature flavors of Boothbay craft beers. A craftsman will share the history of the brewhouse throughout a tour of a facility that is as much an architectural wonder as it is a fascinating exploration of the science and magic of creating exceptional ales and IPAs.
Plan for plenty of time for your visit because after the tour, you will want to finish up with a delicious meal at the brewery's Watershed Tavern. Enjoy a classic for Maine, chowder or a fresh catch of Atlantic haddock. If you crave a more traditional accompaniment to your favorite brew, there are sandwiches, wood-fired pizzas, and burgers. For travelers who sleep in and get a late start, don't worry, you won't miss out either. The Tavern is open late, serving hearty meals of steak and ribs as late as "8-ish". But the kitchen is closed Mondays and Tuesdays!
Boothbay's reputation of crafting "Imperial Attitude Ales" promises visitors a flavorful experience, sipping brews created from only the finest ingredients by passionate brewers. Select American barley, aromatic hops, and a variety of yeast are all part of Boothbay recipes that result in various ales that appeal to every palate.
Perhaps it is two key ingredients that set Boothbay apart from other local breweries. They grow their own hops right on the brewery grounds as well as in a nearby field. The water, the very foundation of their beer, is delivered directly from Adams Pond, a nearby reservoir of crystal clear water. Such freshness translates into incredible flavor.
And that's the scoop on just one of many amazing craft breweries that visitors to Maine don't want to miss.
Planning a trip to Boothbay? We would love to host you and your family & friends for a few nights on your roadtrip: